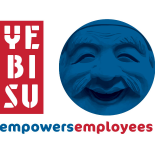 YEBISU empowers employees: Cooperation for innovation and the exchange of good practices within the green sector
Erasmus+ Strategic Partnership (2014-2016) NL, BE, DE, EE, FI, FR, HU, NO
van der Spek Hoveniersbedrijf B.V.  (2014-1-NL01-KA202-001167)
Project aims and objectives:
YEBISU empowers employees
The project "YEBISU empowers employees" aims to find instruments to improve the entrepreneurial behaviour of employees. To this end the project intents to develop a set of units of learning outcomes as well as the assessment tool to measure these outcomes for entrepreneurial behaviour on the levels 1 – 5 of the EQF. The units of  learning outcomes are meant for the competences of Ambiguity, Change and Range of the EQUFAS framework, the key competences for the soft skills of entrepreneurial behaviour.  Although the units are developed for the agricultural sector they are planned to be transferable to other sectors also. This is the reason why also  partners from other sectors are involved. The partners from companies, VET institutes and branch organisations will develop a common approach to fostering entrepreneurship.